Parking is an indispensable part of most big cities. New York City is no exception. There are roughly three million on-street parking spots in New York City. Rates, however, change contingent on the location of the parking spot.
Currently, hourly parking rates can vary from $1.25 to $8, depending on the type of vehicle (commercial and non-commercial) and the location. Rates reflect the neighborhood's parking conditions, such as land use, density, and parking demand. The city has been divided into six parking zones, tailored to manage congestion, improve curb access, promote turnover, and increase parking availability.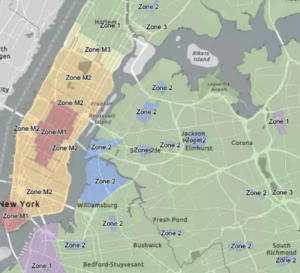 The parking zoning also aims to improve security measures for pedestrians, and therefore get closer to the Vision Zero goal, a set of strategies to eliminate all traffic fatalities and injuries and to increase safe, healthy, and equitable mobility. 
When parking uptown, above 110th street, drivers will typically encounter meters that charge $1 per hour. As they move down, prices increase. If in hotspots and touristic locations, such as SoHo, Chelsea, or Hell's Kitchen, prices can reach $4.50 an hour. Higher prices are encountered in Midtown Core and Lower Manhattan. Staten Island's prices, on the other hand, reach the maximum of $1.50 an hour.
| | | |
| --- | --- | --- |
| Location | All vehicles rate | Commercial vehicles rate |
| Zone M1 – Midtown Core and Lower Manhattan | $4.50 – $7.50 | $6.00 – $8.00 |
| Zone M2 – Manhattan South of 96th Street | $4.00 – $6.75 | $5.00 – $8.00 |
| Zone 3 – Manhattan 96th to 110th Street | $2.50 – $4.00 | |
| Zone 1 – Business Districts outside of Manhattan (Downtown Brooklyn, Downtown Flushing, Jamaica, Manhattan 125th Street | $2.00 – $4.00 | |
| Zone 2 – Neighborhood Retail Districts | $1.50 – $2.50 | |
| Zone 3 – All other metered locations  | $1.25 – $2.00 | |
* Source NYCDOT
Time limits and other instructions are posted on signage near the metered zones and shown on the meter's digital display. To find more about parking rates, you can access NYCDOT's Metered Parking Map at https://nycdot.maps.arcgis.com/apps/webappviewer/index.html?id=a786e79ea512421baecd3bbd1c5619d6