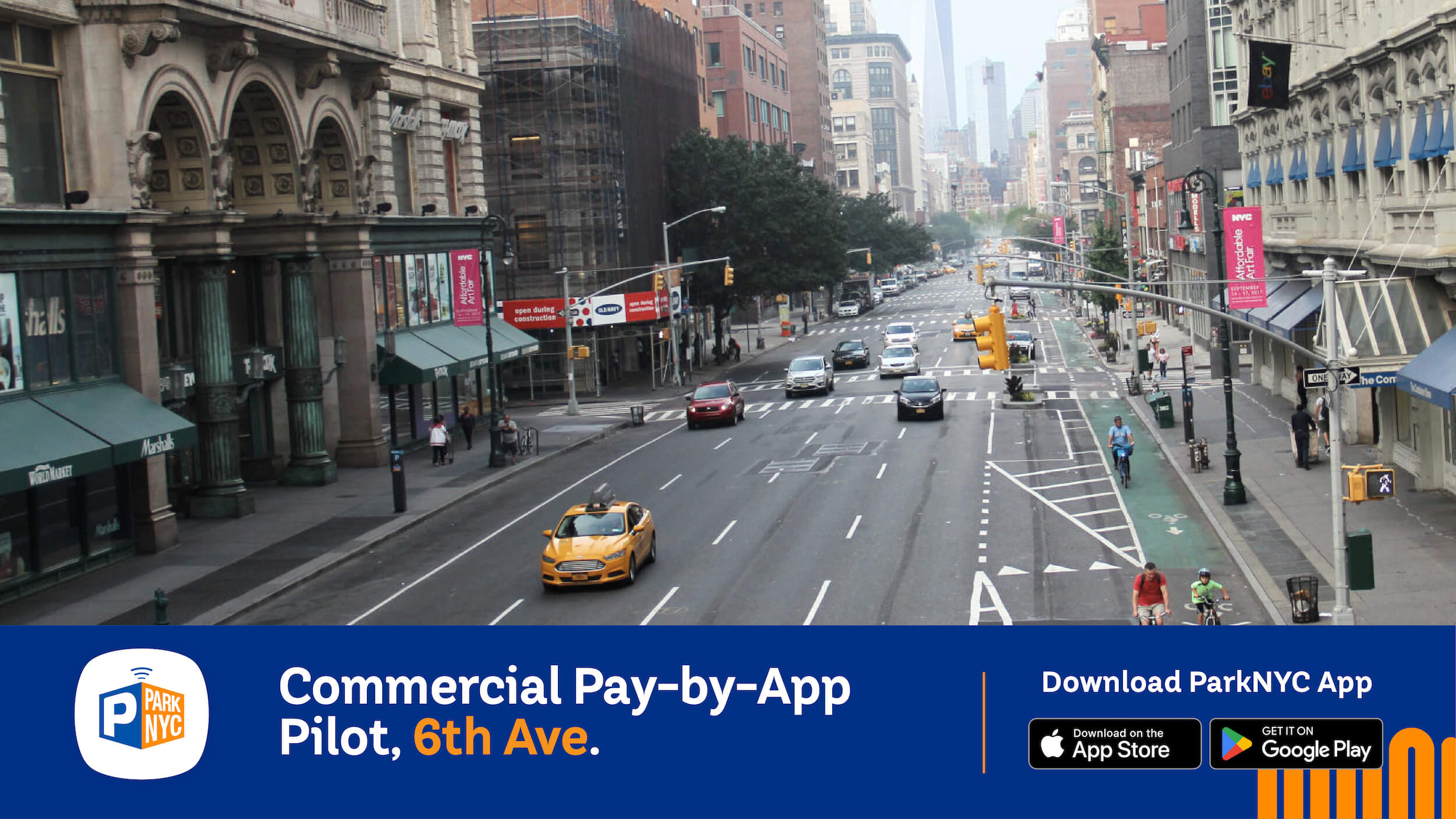 The New York City Department of Transportation (NYCDOT) will launch a Pay-By-App Only Pilot program on August 28th, 2023 on 6th Avenue between 14th Street and 23rd Street.
The pilot leverages the new ParkNYC app, which provides an enhanced platform for app-based parking payment. The redesigned ParkNYC app features an improved user experience and new and expanded user-friendly options, including both an e-Wallet and pay-per-transaction capabilities, as well as fleet management tools. 
The program will evaluate a "meterless" or Pay-by-App Only approach to payment in this area and is representative of the DOT's commitment to innovative and new curb management strategies.
As part of this pilot, commercial vehicles parking along this portion of 6th Avenue will be required to pay using the ParkNYC mobile parking payment app as all physical meters will be removed from 11 blockfaces. Unique signage will be posted notifying commercial vehicles of the Pay-By-App Only spaces.
What you need to know:  
Individuals must pay for regulated parking using the ParkNYC app, NYC's mobile app for metered parking payment.

A pay-by-phone option will be available. Those wishing to pay by phone must first register on ParkNYCapp.com. After registering, call 800-428-4027 to pay by phone.  

Motorists who prefer to pay at a physical meter may find spaces on the side streets but cannot park on 6th Ave. Meter receipts from adjacent blocks are not valid for use on 6th Ave.  

All other parking regulations remain in effect.  
Commercial vehicle drivers who prefer to pay using a physical meter will be able to park along each of the crosstown streets between Fifth and Seventh Avenue, where commercial regulations mirror those on 6th Avenue. 
You can read more about the pilot initiative in the DOT's press release here. You can also follow along for updates on the DOT's project page here.